The Gusset
It's virtually invisible while wearing Swaen's underwear, but all models are equipped with a unique gusset consisting of three layers of different materials.
The breathable gusset is what makes the big difference between Swaen's and the typical beautiful and feminine lingerie. The three layers each have a distinctive and indispensable feature of which the combination was developed on the basis of experience, knowledge, and extensive testing.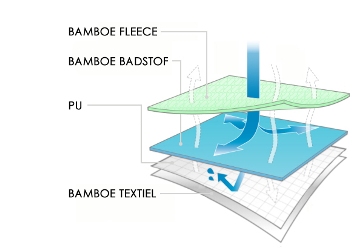 1) BAMBOO FLEECE-fabric. Fleece has the property of allowing moisture to get through but not allowing it to return, so the gusset stays dry to the touch. Besides moisture, this layer also excludes odors.
2) BAMBOO TERRY-fabric. Bamboo textile absorbs more moisture than cotton and the terry structure ensures even greater moisture absorption.
3) PU prevents leakage. Below the layer of bamboo terry, the thin fluid containment membrane protects the gusset against leakage.